what is odoo? - the best Open source CRM and ERP sOLUTION in the world
POWERFUL. UNIQUE. SCALABLE. ACCESSIBLE. ODOO IS AN INTEGRATED and user-friendly ERP SYSTEM. OPEN SOURCE CRM AND ERP SUPPORTED BY THE COMMUNITY OF tens of thousands of MODULES. DEVELOP YOUR BUSINESS WITH ODOO!
Odoo All-in-one open source crm And erp
Odoo is a comprehensive set of ERP business applications containing, e.g: sales, CRM, project and warehouse management, production planning, invoicing, financial management, human resources and many other solutions to improve business performance. It is one extensive system that allows you to organize and control all processes in your company.


Odoo operates on an Open Source license, which ensures the flexibility and scalability of the product - tailoring the software solutions to the individual needs and requirements of the company has never been so easy!

Odoo is a perfect solution for small and medium-sized enterprises. It is easy to use (intuitive interface), has a huge functional and technological potential (the most modern ERP solutions), is affordable, still developing and is supported by the community from around the world.


Odoo is available in the SaaS model, implied on a dedicated server, in the "cloud" or locally. It is created in two main versions - a free Community edition, and paid, more developed Enterprise edition.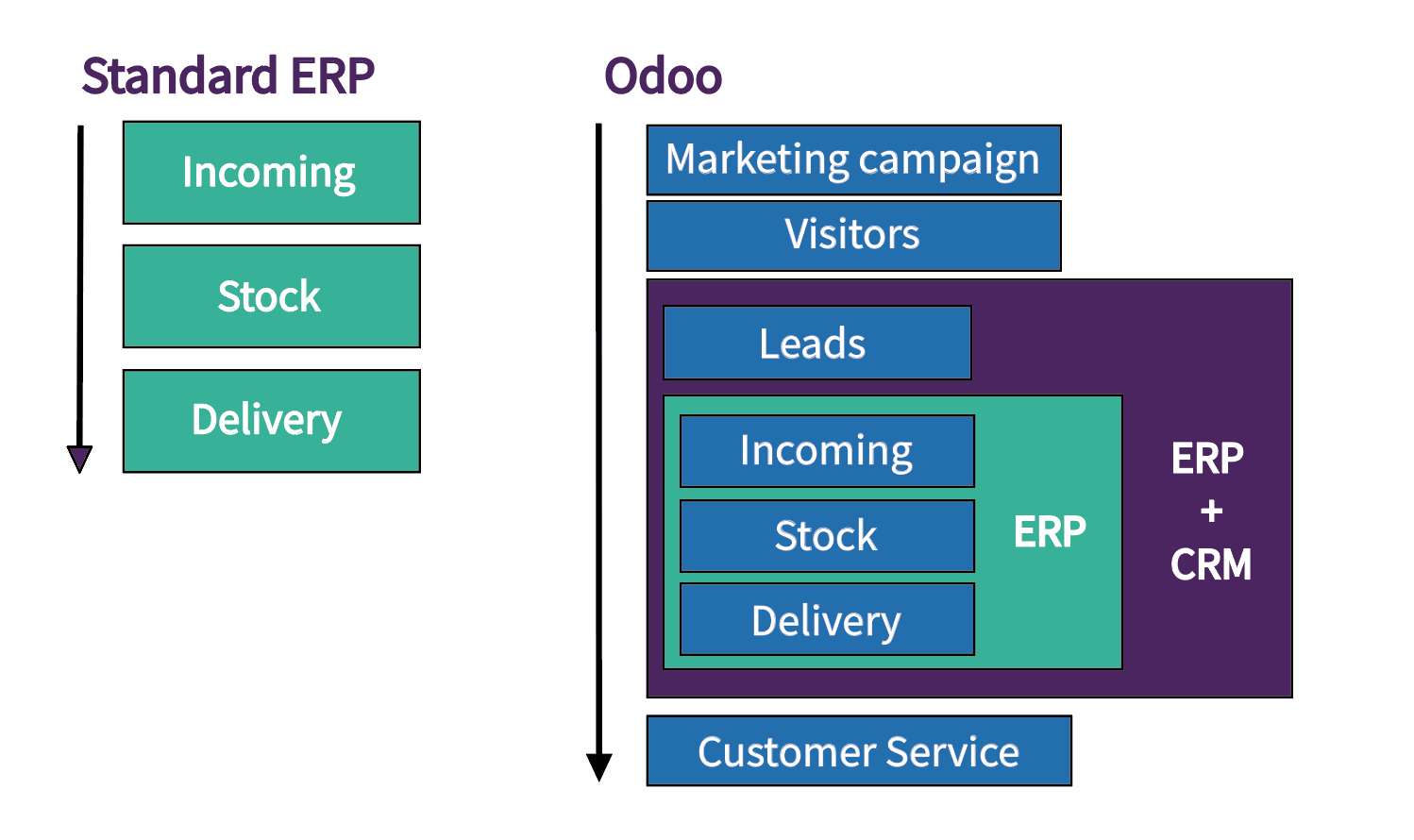 15,000
aplikacations and business modules
100,000
enterprises around the world that use odoo
ODOO is a uniΦe value proposition!
Odoo is a ERP system oriented on the customer
Everything you need in one integrated, affordable ERP environment, customer-oriented and user-friendly!!
The Open Source model allowed Odoo to use the knowledge of a great range of outstanding programmers and business experts to build tens of thousands of applications in just a few years.
The solution you are looking for does not exist yet? - It is not a problem! We can create a completely new and personalized module with functions dedicated only to your business!
Use the basics and the potencial of the best ERP tool to build your own friendly system tailored to the individual needs and processes in your company!
Thanks to solid technical and technological foundations, Odoo's capabilities are unique. Each Odoo application is a firm guarantee of the highest quality and effectiveness for the user. The innovations and tool enhancements in Odoo are automatically applied to all our local, fully integrated applications. Thanks to this fact Odoo is growing much faster than any other solution currently available on the market.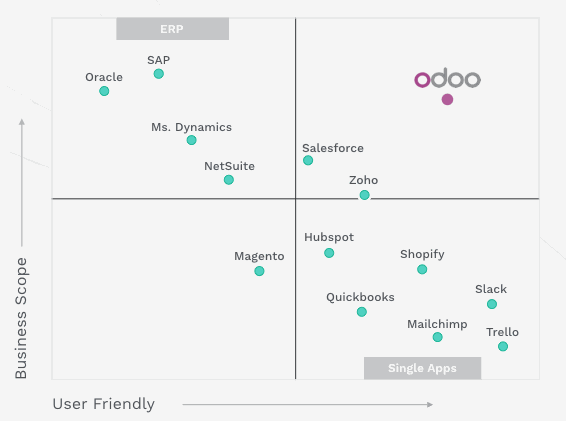 Odoo integrated business applications
the INTEGRATION has never been so Smooth. ONE need - one application

integrated applications
odoo apps, that make your work easier
odoo versions and editions
Odoo is available in three main editions supported by the manufacturer: SAAS, Enterprise and Odoo.sh, as well as the Community version supported by the community and the associates, which in 90% is the core of the entire Odoo code. The Odoo system is still developing and enriched with ever-increasing improvements in applications. On average, there is a new version of Odoo released every year - so by the end of 2018 Odoo v12 will be ready!

Odoo SAAS paid edition


Edition fully managed and developed in the cloud, directly by the Odoo company. It always has the newest features and automatic updates to the latest version at the price of the license. Nevertheless, there is no integration with external programs, which limits the full personalization of the tool.

Odoo SAAS is a great edition with a set of tools for Small and Medium-sized companies, where standard solutions work best. If you do not need any extra integration with other external systems - Odoo SAAS is for you.


Odoo Enterprise paid edition

Odoo Enterprise is developed by the Community and Odoo and has the same functions as Odoo SAAS, but it is installed by Odoo partners on any server. There is full freedom in progressing any code changes, writing new modules, integrations with other programs, installations of external modules written by partners, etc. (full personalization). Update to the new version is implemented under a license agreement about 3 months after the update in Odoo.
Odoo Enterprise will be a great tool for medium-sized enterprises and companies with specific needs that require personalized solutions..


Odoo Community free edition

It is installed by Odoo partners or other programmers on any server. The version is basic, available for everyone for free and is updated on a regular basis. Unfortunately it does not include many functional applications available in paid editions. However, there is the possibility of any adaptation of the tool and changing the code according to your needs.

Odoo Community will be suitable for companies that want to quickly and cost-effectively implement good ERP or CRM software without licensing costs, and do not need additional functionalities that are available only in the Enterprise version.
Contact us to get a discount

Contact us to get a discount

Differences between Odoo Community and Enterprise
Who will appreciate odoo? What is the implementation cost?
we still mainly work in MS excel
ouR team enlarged and we DO NOT HAVE full control on WHAT IS HAPPENING IN THE COMPANY. we Would like TO HAVE A comprehensive insight in ALL the PROCESSES in our company
1-50+ users
We are a small team and we are looking for standard solutions
applications we would like to use
All the applications, except of Accounting and eCommerce
Our budget is between 4 and 20K PLN
We have a limited budget, and we are looking for a good, standard solution for our business
Implementation Basic
According to our experience, we can implement a new solution for your company within 25-125 working hours

We have too many different systems
Over time, WE HAVE IMPLEMENTED MANY SPECIAL SYSTEMS THAT WE INTEGRATED (OR NEVER DONE thAt) WE HAVE A COMPLEX IT ARCHITECTURE AND WE WOULD LIKE TO SIMPLify IT

10+ users
We have many users, many companies, various branches

applications we would like to use
All integrated Odoo applications

OUR BUDGET IS BETWEEN 20 AND 100K PLN
We can afford to fully integrate all processes in the company and adapt the system to our needs

Implemention Standard
According to our experience, we can implement a new solution for your company within 12-79 working days.
We are looking for personalized system
oUR COMPANY HAVE SPECIFIC demands. the ERP SYSTEM we would like to use MUST BE MATCHED with OUR NEEDS AND customized with REQUIREMENTS

10+ users
We have many users, many companies, various branches
applications we would like to use
All integrated Odoo applications and other integrated apps
OUR BUDGET IS above 100K PLN
We are looking for solutions dedicated to our needs, we expect integrations with external systems
Implemention Advanced

According to our experience, we can implement a new solution for your company in at least 80 days
CONTACT US and ask FOR FREE odoo PRESENTATION OR quotation of your project!
GET A FREE DEMO ODOO version FOR 14 DAYS!