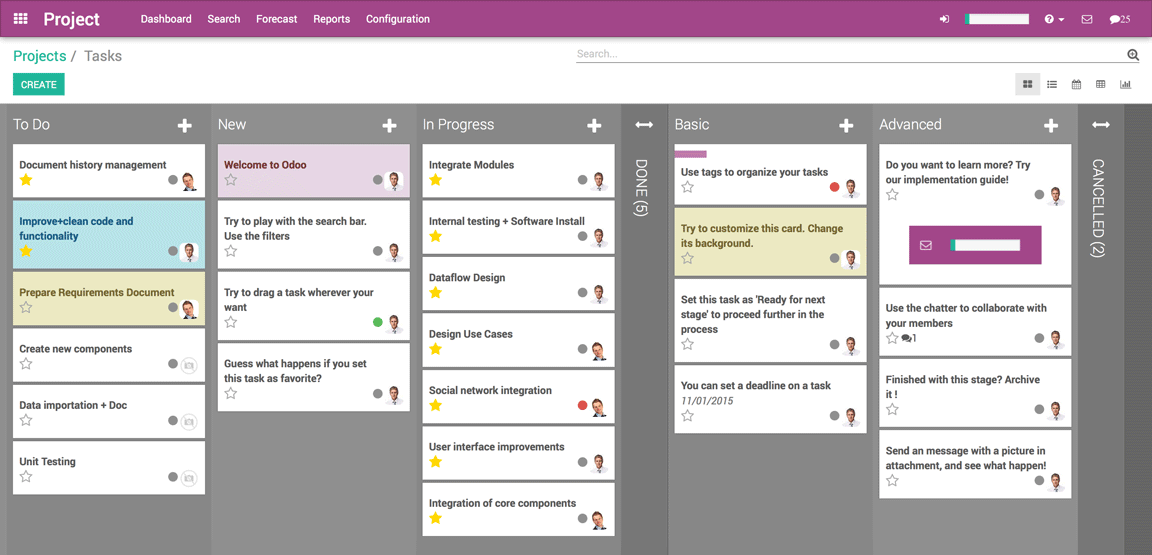 MANAGE MANUFACTURING ORDERS, PLANNING of the ORDERS, work, or MATERIALS WITH ONE APPLICATION.
Odoo Manufacturing Resource Planning allows you to manage production orders (manufacturing orders), plan work, create bills of materials and automatic orders using a single application. Planning on convenient Gantt charts or kanban views and using advanced analytical functions allows you to predict potential problems, bottlenecks, and keep full control over the inventory department. Real preview of production processes will enable you to maintain order in the company and increase its efficiency - better planning of production processes and working time will definitely influence more efficient and timely implementation of production schedules.

NEW quality of PRODUCTION - FLEXIBLE SOLUTIONS solving OLD PROBLEMS
The flexibility of the application allows for full adjustment of the tool to your company needs. With Odoo, you can automate the planning of orders and manufacturing orders and routes without any problems. The ability to edit and flexibly define the basic data of products, or materials will allow you to create multi-level BOM structures, their production methods and routing options, etc. What is more, at each stage of the process, you can manually edit all operations and fully personalize the operation templates to suit them better with your company's structure.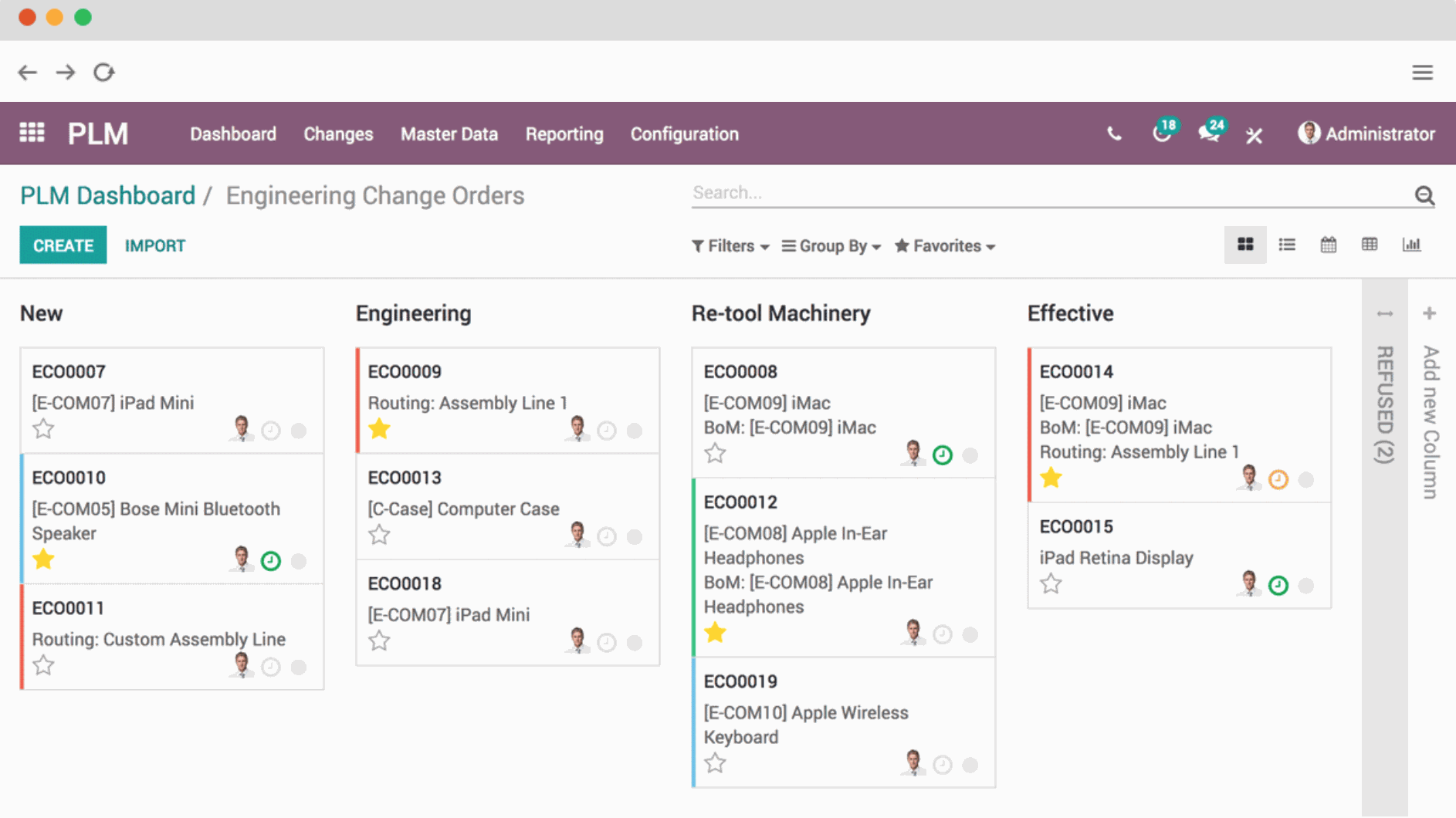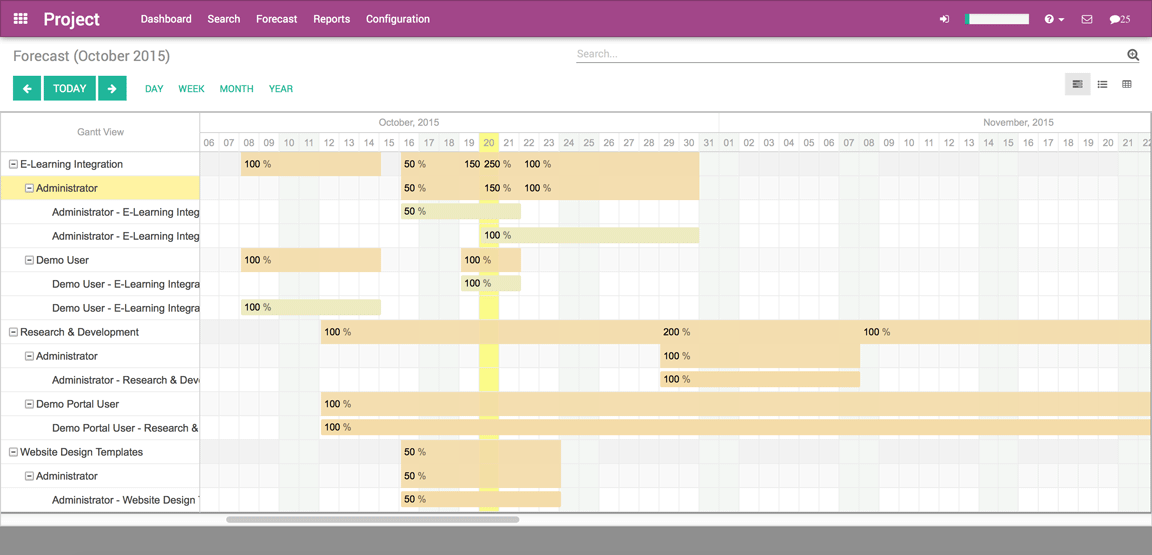 A COMPREHENSIVE TOOL FOR MANAGING THE COMPANY
An additional advantage of Odoo is the user-friendly interface. Editable and transparent lists, Gantt views or calendars, as well as the real time ability to track changes of inventory stocks and values in relation to production, will allow you to be always up to date with the current situation in the company and will give you an opportunity to manage it more effectively.
Odoo production management is fully integrated with other applications - e.g shopping and sales. Thanks to this fact you have current insight into the company's cash flow and the ability to plan subsequent activities.
ODOO MANAGEMENT MANUFACTURING functions
production management with odoo
It allows accurate production planning based on the actual production time.

Integruje zasoby produkcyjne, aby poprawić wydajność i konkurencyjny charakter (MRP, jakość, konserwacja i PLM)
Integrates production resources to improve performance and competitiveness

It helps in fast data processing and categorization, which allows you to respond to current needs and lead effective product management.

It uses all potential tools and resources to effectively control the production flow


It allows for advanced control of the production hall by labels scanning, creating job sheets, value matrices, tracking employee presence etc.

It allows you to manage semi-finished products, track the inventory process and costs related to operations

It gives a global picture of resources and allows you to effectively manage processes in the company and create effective forecasts

Traceability - pełna możliwość śledzenia wszystkich partii, produktów, półproduktów i wyrobów gotowych za pomocą nr lot lub nr serii
It gives full traceability of all batches, products, semi-finished products and finished products by means of lot number or set number

It is compatible with other Odoo applications

Is is possible to integration with CAD systems for the import of BOM structures
fully integrated odoo business applications
COMPATIBILE ODOO APPLICATIONS THAT GIVE YOU EVEN MORE CONTROL OVER MANAGEMENT PROCESSES IN YOU COMPANY